Press Release
Published on 11 - September - 2008
Smart new solar ideas for Glee 2008
Smart Solar, the solar garden product specialist, is launching a number of new products into its collection of lighting and water features at Glee.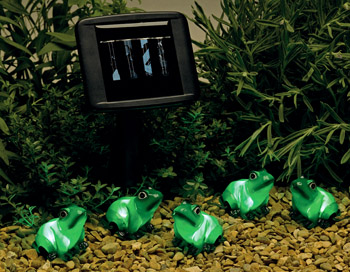 New Freddy Frog and friends light strings will be launched by Smart Solar at Glee
Strings of miniature solar powered creatures provide fun decorative solar lighting that is expected to appeal to all ages. The Woodland Creature Light String range consists of 4 products. Freddy Frog and Harry Hedgehog have 5 energy saving LED's in each string and are great for flower beds and pathways. With 15 LED's in each string, Betty Bee and Lucy Ladybird are more suitable for putting in shrubs and large plants. The creatures illuminate automatically at dusk, with the frogs glowing green, the hedgehog and bees both amber and the ladybird strings red. A Woodland Creature Light String dump bin that contains a selection of the different products is available to retailers to enable consumers to make their selection more easily.
Smart Solar is also launching a new Solar on Demand battery technology for a selection of its water features. Solar on Demand allows consumers to operate their fountains or birdbaths in inclement weather or at night and not just during the day when the sun is shining. The features are powered by the sun during the day, a combination of sun and battery power when it is cloudy and on battery power alone at night. The sun charges the battery allowing up to 6 hours of use each night, which is ideal when enjoying warm summer evenings in the garden.
Jonathan Stobart, Smart Solar's Managing Director, commented, "We continually strive to bring the gardening market exciting products and innovative new technological developments. The new products we are launching at this year's Glee demonstrate our commitment to providing great quality products that enable consumers to benefit from using solar power in their gardens."
For more information contact:
Smart Solar
Back to main news page