Press Release
Published on 4 - June - 2008
Fine spray gun - new from Bosch power tools.
Bosch Green has launched the PFS 65 Fine Spray Gun which uses 'SprayControl Technology' to create brilliant coats of paint on smooth or heavily textured surfaces - three times faster than the conventional paintbrush method! It is aimed at consumers looking to spruce up shutters, doors, furniture or the garden fence without wielding a paintbrush for hours.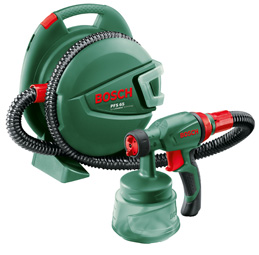 The new Bosch PFS 65 Fine Spray Gun works with a low-pressure system called 'SprayControl Technology' where an air jacket accurately focuses the paint mist when spraying so that the user consumes up to 15 per cent less paint. Plus, the air jet speeds up the drying of paint and a second coat can be instantly applied.
It's simple to use - even for beginners. The optimum paint flow is created using the setting wheel in the switch on the spray gun. Materials with thin viscosity such as varnishes, wood preservatives, pesticides, stains, oils or primers are applied undiluted. With acrylic or gloss paints, dilute in ten-percent steps and perform spray tests until a consistent paint pattern is produced. (You usually only need to dilute once.)
The tools are easy to operate. All the parts used to guide the paint are fitted with the tool-free 'SDS principle' allowing for easy paint changes and quick cleaning. When work is interrupted, you simply put the spray gun down in the 'parked' position.
600ml litre and 800ml litre paint tanks are available for spraying surfaces of different sizes. The fine spray system is also quickly cleaned. Spray repeatedly with water or solvent until clear liquid flows out. Then clean the individual parts separately. The new Fine Spray Gun is also quieter than the so-called airless spray systems.
The Bosch PFS 65 Fine Spray Gun is a compact, portable system. The low weight of its spray gun and the flexible air hose allow for easy working, even in awkward positions or overhead. When the work is done, the hose is conveniently stored in the base unit.
The paint flow can be set in four stages using the switch on the spray gun, controlling the paint coming through from a fine to a heavy spray. The three-stage paint jet can be adjusted for horizontal, vertical or round spraying.
The Bosch Fine Spray Gun PFS 65 will be available in B&Q from June 2008 and at other retail outlets from September 2008 at the recommended retail price of £99.99 including VAT.
Bosch also supplies a DVD containing tips on how to use the PFS 65.
For more information contact:
Bosch Power Tools
Back to main news page