News
Published on 30 - April - 2008
Cheshire outlines plans for a sustainable B&Q
Speaking at the World Retail Congress the Kingfisher ceo discusses how the retailer can contribute to a 'one planet life'.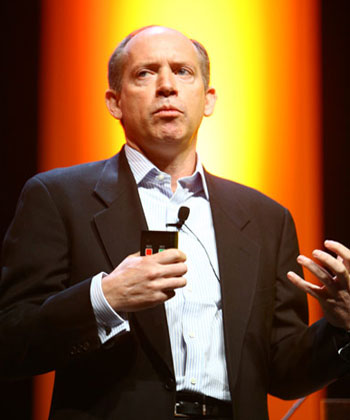 One planet: Kingfisher ceo Ian Cheshire stresses that sustainability is here to stay.
Sustainability is here to stay was the message Ian Cheshire told delegates at the World Retail Congress in Barcelona earlier this month.
The Kingfisher chief executive said that retailers and brands have to be realistic about their aims, offer something tangible to consumers, and be transparent when talking about sustainability.
He said: "It's a big and complicated issue, but it is in consumers heads in a way it wasn't five years ago. And they want our help as retailers. We don't have an option of parking it in the corner."
From B&Q's point of view, he said the retailer is working with the WWF in a partnership called OnePlanet Living.
"What that gives us is a sense of how customers can contribute to a one planet life, and as a business how you can contribute to a one planet life," Mr Cheshire explained.
"The whole idea behind OnePlant Living is that if everyone lives like they do in Europe, you will need three planet's worth of resources, and that gives us a way in to the sustainability piece, and the home is something we are going to talk about in years to come."
He went on to say that B&Q can create a business that is sustainable by ensuring its practices are done in a low impact way, and that its customers are encouraged to have a low impact life.
The ceo said: "We've seen a tremendous response to initiatives like wind turbines, solar panels, new forms of insulation, low-energy light bulbs and more efficient heating systems, and that probably has made it into a business case now whereas perhaps before it was seen as a social responsibility issue."
He also pinpointed three key lessons for retailers:
1.
Motivation – this is a really strong motivator for colleagues in-store. The idea that your team is not interested is complete nonsense; in fact, they're really motivated by it, and it's a real positive for employee engagement.
2.
Relevance – it's got to be relevant to your business. For us, we've very much focussed on sustainability around the home.
That makes it real because if you get into token greenwashing, you'll be instantly found out whereas if you make it real, and make it product-based, you'll see clear sales opportunities.
3.
Walk the walk – as an organisation may sure you are walking the walk as well as preaching. Look at how you run stores, look at your logistics, how you're approaching your broad supply chain – asking the question: 'what could I be doing to put my own house in order?'
The World Retail Congress (April 9-11) is a showcase for some of the highest profile members of the global retail community.
Topics for keynote speeches included sustainability, driving international growth and the place of retail in the new global metropolis.
Back to main news page