People News
Published on 18 - March - 2008
Gardman names sales agent of the year
Jason Hardwick and his team complete full house of victories after fifth successive win.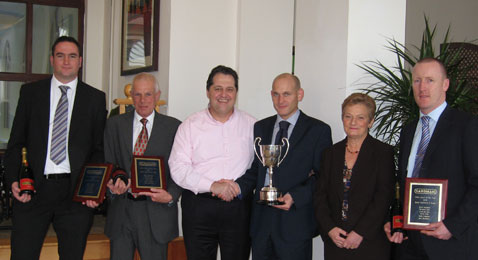 Winners: Jason Hardwick, receives the trophy from Gardman chairman Paris Natar, flanked by his team.
Jason Hardwick and his team have won the Gardman Sales Agent of the Year Award 2007.
It is the fifth time the team has been successful, having won the title in 1999, 2000, 2004, and 2005.
Mr Hardwick's team – comprising Richard Card, Scott McCabe, Derek Petts, Andy Campion and Mr Hardwick's wife Jane – covers the south east of England from Dorset to Kent and south London.
George Cubrillo and his team were runners up.
Mr Hardwick has been an agent for Gardman for 14 years.
His team received the perpetual trophy, individual plaques, and bottles of Champagne from the company's chairman Paris Natar at Gardman's annual sales meeting, held at De Vere Belton Woods Hotel, Belton, Grantham on Friday, February 22, 2208.
Back to main news page