Press Release
Published on 18 - February - 2008
Bird Brand Range Extend with Cost-effective and Efficient Shed & Fence One Coat Protection
Bird Brand is set to brighten up the margins and shelves of retailers with its new Shed & Fence One Coat Protection.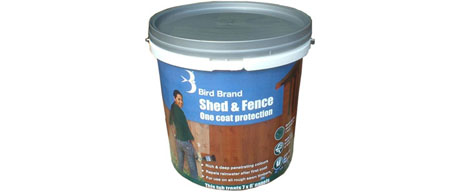 Uniquely, OCP can be applied by brush, roller or sprayer - a key benefit for retailers tired of relinquishing space for other shed & fence products.
The six rich, deep penetrating colours contain special waxes that repel water in just one coat and within only 1-2 hours of application. The 5L bucket has a SSP of £5.99.
Bird Brand also comprises wood care solutions, DIY solvents and other fast-moving products, and features special mixed-pallet deals and POS merchandise. Contact
www.birdbrand.co.uk
or 01842 828101.
For more information contact:
Bird Brand - R K & J Jones Limited


Back to main news page