Press Release
Published on 11 - February - 2008
DIY retailers reap big returns on new leak sealant
Profit margins for DIY retailers are set to rise rapidly thanks to the new revamped Plumber Fix product from Sylglas. Plumberfix provides a quick and effective way of putting a stop to leaks; its introduction will enable retailers stocking it to respond directly to a growing consumer demand for reliable anti-leak products.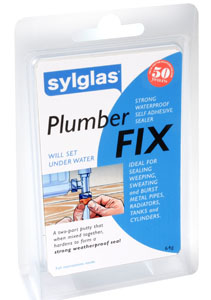 Unique to Sylglas, Plumberfix is a strong waterproof sealer epoxy putty, which, once applied, hardens to form a strong waterproof self-adhesive seal for leaking radiators, tanks, cracked gutters cylinders and metal pipes. Alternative uses include repairing broken ceramic and terracotta pots and leaking watering cans, as well as filling holes in car radiators.
Able to set under water, Sylglas Plumberfix is purpose designed as a permanent leak sealant for piping and tanks, and can be used on most materials except soft plastic materials. It is 'copper' coloured when hardened.
Available in a 64g block, Sylglas Plumberfix comes with detailed, easy-to-use instructions, offering retailers compelling point-of-sale packaging.
Martin Lowe, Marketing Manager Distribution Products for Sylglas comments "For retailers, the sales potential of this useful product line is considerable as consumers are increasingly aware of the need to have such a handy product in the house for last minute emergencies. With the availability of Sylglas Plumberfix now extending across many independent retailers as well as major national chains it has never been easier to source what is widely reputed to be one of the most reliable sealing products on the market."
Sylglas, which is celebrating its 50 year anniversary this year, has established itself as one of the leaders in the home and garden DIY market by offering a complete range of waterproofing, sealing and safety products along with solutions tailored to retailer and consumer needs.
For more information contact:
Winn & Coales Denso Ltd
Back to main news page