Press Release
Published on 11 - October - 2007
Irwin launches new low tension hacksaw
Irwin has strengthened its range of hacksaws with the I-75 Low Tension Hacksaw.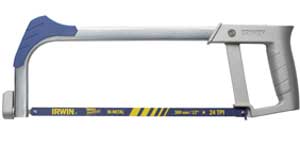 Smaller and more compact than the I-125, the I-75 sports a metal frame, offering high blade tension and bi-metal technology for the hacksaw's blue blade.
The ergonomic handle also features a comfortable soft grip to reduce friction when sawing.
Rrp is from £15.37 inc vat. A free Junior Hacksaw is given with every I-75 purchased - available from all participating stockists.
TEL: 0114 244 9066
www.irwin.co.uk
Back to main news page