Press Release
Published on 11 - October - 2007
Flexible promotion from Draper
Draper Tools has launched its autumn into winter 2007 promotion.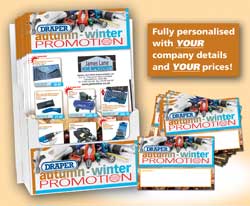 Designed to be completely flexible, and featuring over 740 top-selling hand and power tools, participants can create a promotion to suit their business.
The promotion is made up of three levels, subject to initial stock order value - all offering fully-personalised leaflets, with company details and chosen prices. Pos packs are supplied with the two higher levels.
Qualifying orders also receive a stockist incentive pack.
TEL: 023 8049 4333
www.draper.co.uk
Back to main news page