News
Published on 21 - February - 2007
New sales force at Abus
Security firm assembles team of specialists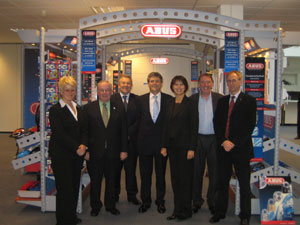 From left: Fergusson, Crossley, Taylor, Hudson, Collins, Hamilton, Vanderhoest
The UK hardware distribution of ABUS padlocks is now exclusive to Toolbank and Hoppe. The ABUS team, comprising Terry Crossley, Steve Hamilton, David Hudson, Pam Fergusson, Brian Taylor, Andrea Collins, Nick Vanderhoest, will be working with the distributors to increase service levels.
The seven-strong sales force has more than 75 years experience selling ABUS and covers the whole of the UK.
Managing director at ABUS UK, Nick Vanderhoest commented: "It has been a great pleasure for me to put together this ABUS team. Our customers, like me, will have worked with them before and be confident with their reputation."
Back to main news page