Get your baps out
05/03/2012 09:34:40
DIY in cyberspace
by Ellie Dawes
---
So is the MEM's advert sexist? When I first read the description of it I thought this was a bit of an overreaction by the ASA.
But now we've got the image on the site I have changed my mind. I mean, it looks like something from the cover of Nuts. I find it degrading and I can't be the only one,
35% of DIYWeek.net readers agree with me
.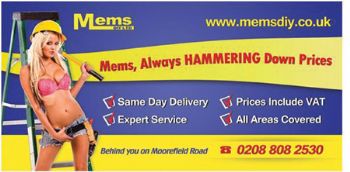 But I didn't write this blog to dispute the anti-feminist issue of using scantily-clad ladies to push products. I thought I'd just point out the irony that that advert is all over DIYWeek.net now. It's also been retweeted several times on Twitter. Everyone wants to see the ad so they can decide if it's sexist or not. Google image results for Mems DIY now show up the advert before the company logo.
I had a similar experience with a poster we created for a local amateur dramatics production a couple of years ago. The local council decided
our poster was a bit racy
and asked us to cover up the cleavage on it. Our press-savvy director sent out a press release and suddenly our poster was linked to from the Facebook pages of half of Croydon, and even appeared in the Evening Standard. As a result tickets for the play sold out.
So in the age of social media, is sticking a pair of breasts on a poster a calculated risk worth taking?
DIYWeek.net does not edit comments which are submitted directly by our users to express their own views. Please report abuse of our comment system here.